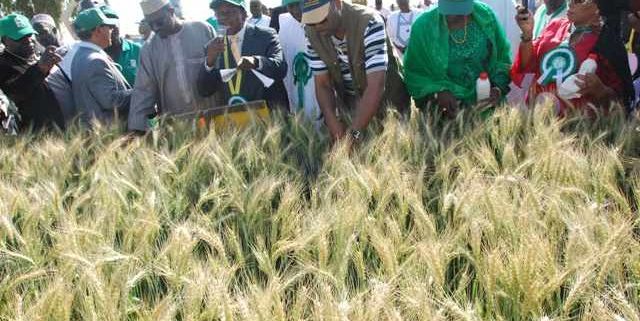 Nigeria will reduce wheat importation by 60 per cent by 2025 as the Flour Mills had initiated and supported the production of improved and high yielding wheat seed in Jigawa and Kano states.
The Team Leader, Wheat Value Change in Nigeria and Executive Director, Lake Chad Research Institute, Dr Oliwasina Olabanji confirmed this on Sunday after inspection of wheat seed production farms in Ringim and Hadejia Local Government Areas of Jigawa.
He said the firm had supported farmers with seed and fertilizer to cultivate 45 hectares of the improved seed, with 30 hectares in Kano and 15 in Jigawa.
According to him, seed was critical to crop production, hence the need to support and encourage its production.
Olabanji identified lack of adequate seed as a major challenge in the value change agenda in Nigeria.
He said, "We are here today for a farm work on wheat seed production. This project is the initiative of Flour Mills of Nigeria, they empowered our farmers with inputs to produce wheat seed.
"Seed is very critical in crop production and in the value change, our major challenge is seed, we don't have adequate seed in this country, not only for wheat, even for most crops.
"But the Flour Mills of Nigeria has in no small measure helped us to bridge the gap in our seed production. They have intervened in two states; Kano and Jigawa.
"Here in Jigawa, they empowered three farmers to cultivate 15 hectares of wheat seed, likewise in Kano, about 30 hectares have been put into wheat seed production with support of the company.
"We are so grateful to them and we are also grateful to our farmers in the wheat value change," Olabanji said.
He added that the farmers engaged to produce the seed were competent enough and were trained on community based seed production.
The team leader also assured the farmers that the company would uptake the seed after cultivation.
"And another thing that the Flour Mills is going to do now is when the farmers harvest is to buy from them. So farmers already have market.
"And I want to thank the state's Director of Agricultural Transformation Agenda (ATA), Malam Isa Awwalu, for his support in the programme," the team leader added.
According to him, the wheat value change team will soon come up with another project in which wheat seed production is a component.
Olabanji added the team will collaborate with Jigawa Government to make sure that by 2025, Nigeria reduces importation of wheat seed by sixty per cent.
"The Governor of Jigawa is very supportive to our wheat production and another project is coming up in the next two months and wheat production is one of the components of that project.
"So we are coming to sensitise Jigawa government on the project so that we will have a very strong collaboration to make sure that come 2025, Nigeria must reduce importation of wheat by 60 per cent,'' Olabanji said.
Source: www.agropages.com
https://www.dextrainternational.com/wp-content/uploads/2018/04/nigeria.jpg
400
640
David
http://www.dextrainternational.com/wp-content/uploads/2016/07/Logo-Dextra-300px-New.png
David
2018-04-10 11:54:34
2018-04-10 11:54:34
Nigeria targets 60% drop in wheat import by 2025, as Flour Mills backs high yielding seed